P.O. Box 8804 Norfolk, VA 23503 (757) 480-2991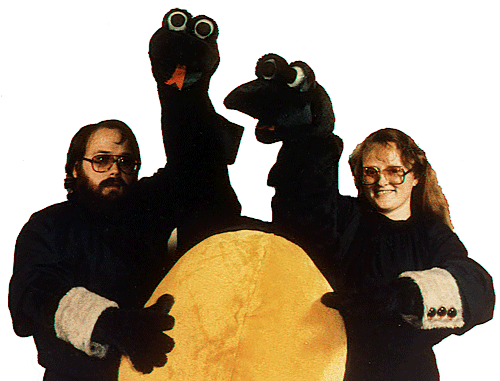 Fuzz and Stuffing Puppets
Under the name of "Fuzz and Stuffing Puppets," puppeteers Craig Adams and Debra Burrell produce and create special educational puppet programs for a variety of organizations. Utilizing the Japanese Bunraku style of puppetry, with puppeteers clad in black and visible to the audience, their large free-standing puppets, look much like big animated stuffed toys.
They are active members of the Southeastern Virginia Puppetry Guild, an officially chartered guild of Puppeteers of America. The Southeastern Virginia Puppetry Guild meets at the Children's Museum of Virginia the third Sunday of the month at 2 p.m. The Guild's monthly meetings feature exciting speakers and workshops, show and tell, and useful tips that anyone using puppets can use. The group welcomes teachers, entertainers, and church groups. There is no admission fee for those attending the meetings. So bring a puppet or an idea for a puppet, bring an open mind and sense of fun, and enjoy learning with, and learning from, other people interested in the ancient art of puppetry.
Every year, Southeastern Virginia Puppetry Guild sponsors and presents the National Day of Puppetry celebration at the Children's Museum of Virginia.
---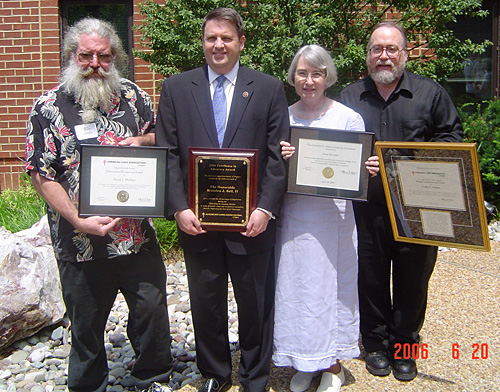 Courtesy of the American Lung Association of Virginia
CRAIG T. ADAMS RECEIVES STATEWIDE AWARD
On Tuesday, June 20, 2006, Fuzz and Stuffing Puppets co-founder, Craig T. Adams, was presented with the highest honor given by the American Lung Association of Virginia. Adams received the Douglas Southall Freeman Award, bestowed annually to a person deemed "to have made extraordinary contributions to the cure and control of lung disease within Virginia." The award was made at the organization's annual board of director's meeting immediately after Adams performed his "Clear The Air" secondhand smoke awareness puppet show for the board, his lovely wife, Debra Burrell, and an audience of invited youngsters. Adams and puppets, "Smoggy and Claire," have toured the program for eleven years. The show and award presentation got some nice coverage on Richmond Channel 12's News.
---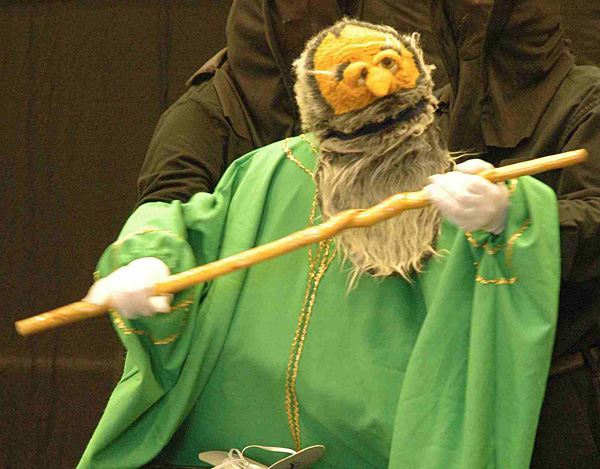 "Basilisk" Photo by Betty Ann Galway
Puppetry pair brings japanese form to Children's Museum
Looking more like ninjas than children's theater performers, they reassured the wide-eyed at The Children's Museum of Virginia ."We're not trying to scare anybody. We're not trying to fool anybody. That's just the way this show is done," puppeteer Craig Adams said...
---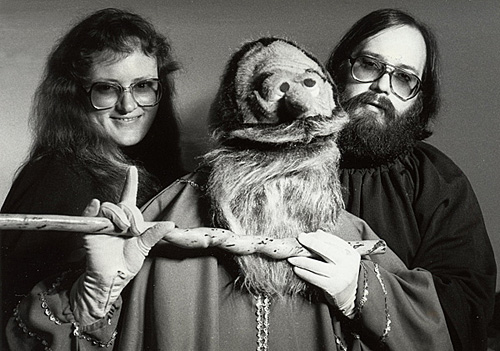 CRAIG T. ADAMS AND DEBRA A. BURRELL
Craig T. Adams is an actor, puppeteer, scenic designer, writer and television personality, who earned a Master of Fine Arts degree in Children's Theatre from the University of Utah in 1977, receiving the department award for outstanding contributions to children's theatre. Debra A. Burrell is Volunteer Services Manager for the Norfolk Botanical Garden. She enjoys writing, doing voices and being a puppeteer as well. She earned a Bachelor of Arts degree in English, also from the University of Utah. In 1995, Debra received the Vianne Webb Award for outstanding contributions to the arts and culture from the Cultural Alliance of Greater Hampton Roads.
They have created special educational programs for a variety of organizations. These include "Space Deputy I & II" for the Hansen Planetarium and "Officer Ugg I & II" for the Intermountain Poison Control Center, both in Salt Lake City (1977).
After relocating to Norfolk, they were commissioned to write, produce and tour "Cardio-man," a show about nutrition, exercise and heart health, for the American Heart Association of Virginia (1979-1984).

A studio performance of "Cardio-man" was videotaped by PBS station WHRO-TV, with Madblood's Mike Arlo in the title role. This became part of the Norfolk Schools curriculum for a number of years.
It was during the development of "Cardio-man" that a mutual acquaintance introduced the puppeteers to Madblood's Jerry Harrell, then working for WAVY-TV. A year later, "Fuzz and Stuffing Puppets" made their first appearance on the Madblood show in a spoof of "The Empire Strikes Back," which used puppets from "Space Deputy" and "Wartweezle Wugwump and The Mess Monster Pageant." (Wartweezle Wugwump was the first "character" Adams created and appears as the Fuzz and Stuffing logo creature.)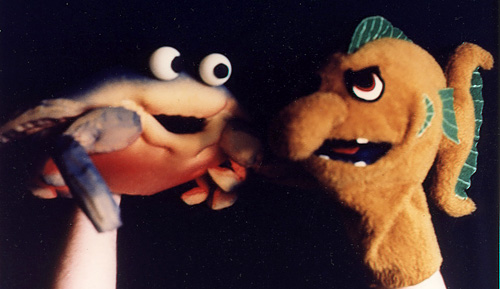 Other special programs included "Crusty the Crab," produced for the 1981 Cousteau Society exhibit at Harborfest and "Some Secrets Hurt," a sexual abuse awareness show for Response: Sexual Assault Support Services (1983-1994). They also built a production for a Navy Family Services program on separation (1986) and performed the "Kids on the Block" disability puppet shows in the Hampton Roads area (1983-1993).
Adams worked as puppeteer and special costume designer on the award-winning "Raisin' Up" nutrition series for WHRO-TV, and won a design award for "Bay Country Folklore," a one-act play performed by the Discovery Players of Maryland, one of six touring productions he built for that company.
From 1990 through 1994, he appeared as "Sylvester T. Fox" in the "Club 33" Fox Kids Club on WTVZ-TV in Norfolk. He teaches stagecrafts at Norfolk Academy and is currently touring Virginia with "Clear the Air," a solo puppet program on second-hand smoke awareness, commissioned by the American Lung Association and funded by the Coalition for a Smoke-Free Virginia.

The "Fuzz and Stuffing Puppets" have performed at the International Children's Festival at Wolf Trap, Pete Seeger's "Clearwater, Great Hudson River Revival", the Chrysler and Hermitage museums, the Virginia Science, Marine Science, and Living Museums, as well as festivals, schools, and malls in Virginia.
While "Fuzz and Stuffing" shows are primarily aimed at children, there are often oblique jokes and references tossed in to make sure any grown-ups present are paying attention, a quality that has made the puppets right at home in Madblood Manor (both Adams and Burrell began watching their local horror film hosts at an early age). Although writing puppets into Madblood scripts is a pleasure indulged upon sparingly, Adams and Burrell especially enjoy inventing characters for actor friends Ron Newman, Lynn Ruehlmann and Candy Cudworth Aston Dennis.
CRAIG T. ADAMS FEATURE STORY IN VIRGINIAN PILOT
Friday Night Frights producer and co-star Craig T. Adams has a feature story on the front page of the December 15th edition of The Virginia Pilot's Daily Break section. The story, entitled 'Puppeteer With a Purpose' details Craig's groundbreaking work for the American Lung Association with his puppet show 'Smoggy and Claire Clear The Air.' In the article, Craig is called a superhero and the story begins with the following introduction: 'Children love him. Schoolteachers think he's the dreamiest.'
Visit


Fuzz and Stuffing past and present!


Links to puppetry, supplies, and other absolute necessities